"Participation is the informed, autonomous and meaningful involvement of a community in influencing decision making and action."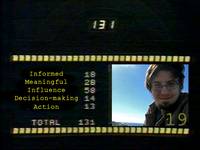 This blog is at least in part about participation – so I really ought to have a definition. I've got a post on the go that explores what I mean by participation in more depth, but lets start with just getting a sentence sorted out for now. Ok – so the sentence above a bit wordy – but I think it captures quite a lot of what I mean by participation. I scribbled this definition down yesterday when I was asked to come up with my top 5 words to describe participation.
Unfortunately that definition gave me at least 7 words:
Informed
Autonomous
Meaningful
Community
Influence
Decision-making
Action
But cut down to the 5 I was asked for I ended up with:
Informed
Meaningful
Influence
Decision-making
Action
Perhaps with a little more work I can really get a clear sentence to put across what I mean by participation. But that's a few weeks off – so I'd love to hear from you:
What is your definition of participation? If you had to choose five words to describe participation what would they be?
(In case you'd noticed I've been slightly slower on blogging since the end of August, fear not, Tim's Blog is not dead… just time-constrained and with many posts-in-the-pipeline-held-up-by-philosophising (a common affliction) which should make it here sometime soon…)