It continues to suprise me how often different standards are uncritically applied to young people and to adults. The justification for the difference is assumed, but never articulated.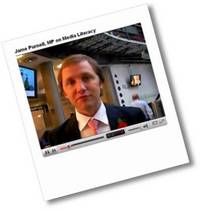 In his speech at the Digital Media Literacy Summit today James Purnell, MP, Secretary of State for Culture, Media and Sport, robustly argued that government shouldn't attempt to censor access to digital media – but quickly noted and praised not long after work going on to develop and certify software that allows parents to block young people's access to 'harmful material'.
I'm not going to go as far as the child liberationists to argue that media censorship for children and young people and not adults is an arbitary imposition without grounds. But I would suggest we need more critical thought about the risks of uncritically talking about a blocking approach to young people's media access and to the protection of young people online.
What do you think?
(I've been acting a social media reporter at the Summit today. You can see some of the videos I captured at http://uk.youtube.com/digitalmedialiteracy. More coming on Monday when I get chance to edit them…)