I've just booked a place at Children and Young People Now's 'Keeping Children Safe Online' conference. It's not a conference title I'm entirely comfortable with. It appears to embody two key errors in thinking about young people and the internet
An over-emphasis on risk

The wrong response to risk
In exploring my concerns on these points, the provisional thoughts and explorations I've been working through emerged as this blog post.
An over-emphasis on risk
It's easy to talk about risks. When you're looking for the possibility of trouble – you can usually find it. And when you've identified trouble – the (cognitively) 'easy' response is to put up fences – block it off and 'protect' people from it. If you can stop one person from experiecing the 'risk' – then putting up the fences is worth it. The logic follows that risks are bad – and risks should be removed.
Lizzie Jackson perceptively writes:
"What concerns me is the child protection industry which is increasing apace and, through its expansion, it could be argued, the promotion of the perceived risks to children."
It's far trickier to talk about:
a) Navigating risk – that altogether more sutle process of possessing the right skills, having the relevant cognitive and emotional assets, accessing the right advice, and being in the right settings to turn what could be a seen as a potential 'trouble' situation into an opportunity for individual development.
b) Opportunities – If 'all risks are bad' are all opportunities good?
Opportunities are prospective, provisional spaces for exploration. We don't know exactly where they lead. We can't specify what will definitely happen when an opportunity is pursued. And most opportunities involve some risk (which, by implication, makes them bad?). If you tell me not to do something because of the risk, you know what happens. I don't do it. If you encourage me to explore the opportunity, sensitive to navigating risk, then you need to accept you don't know exactly what is going to happen. That can be tricky.
The wrong response to risk
The recent BBC Panorama documentary 'One Click from Danger' suggested that, in response to risks online, under 18's should not use their real names and only talk to those they have had real world contact with.
That's a set of recomendations that cut young people off from a rich range of opportunities and experiences for social interaction and development online.
And it's a set of recomendations that entirely ignore the crucial role of young people's participation in their own protection.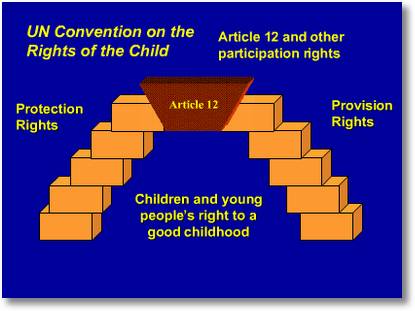 *
The slide above (a rightful favorite of Bill Badham's) outlines how young people's right to participate is the keystone that holds together their rights to be protected, and their rights to provision. Effective protection can only happen through participation.
We should be engaging young people in all the decisions that affect their online lives – not setting down arbitary rules that exclude them from key decisions and fail to engage young people in managing risks in partnership with trusted peers and adults around them.
Asking the right questions
How can adults keep young people safe online? They can't. Not on their own. And certainly not by using inflexible rule and systems of control.
Rather – we need to be asking about how we can support young people to be safe online? And – how we can support young people to make the most of the opportunities and provisions available online?
Or to rephrase the question into a form that might provide a little for structure for discussion and sharing of practice:
What does young people's effective participation in their own protection, and the provision for them, look like in the online context?
*As an (important) aside – given the UK has signed the UN Convention on the Rights of the Child from which the rights in the model above come – surely it should form the basis for our public policy in this area?