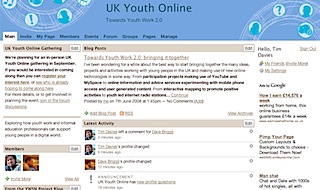 I've been looking for a while for a space where all the conversations around work with young people and new technologies/social media/web 2.0 can come together.
I've not found it. So I've set one up.
So – if you're interested in exploring what social media means for youth services, participation projects, IAG, or any other organisations providing support, advice and activities to young people – do come and join us over on the UK Youth Online Ning network.
You can create your own profile, find others with shared interests, post questions and share your learning.
And if you're on a local authority network and you find you can't access this site because of a web filter, do get in touch and we'll see what we can do to get the block lifted…
Who is there already?

Visit UK Youth Online