Film is powerful. But to have the strongest impact it needs to be used in the right way and seen by the right people. That's why thinking about distribution needs to be a key part of youth video projects.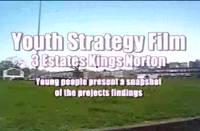 A great video about the challenges young people face in a local area, that is never seen by those who are responsible for the decisions that could improve things, is an opportunity missed. Identifying who should see your video, and inviting them to watch and respond to it, is an important part of any change-making video project*.
A lot of videos miss getting the audience they deserve. Social media and online distribution have a big role to play here. Beth Kanter has remixed a version of the Social Media Game for Documentary Film Makers. The social media game can provide a great starting point for exploring the opportunities presented by new technologies for reaching wider audiences.
Distribution in action: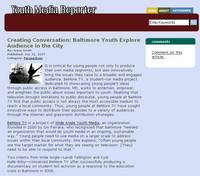 As I was preparing this post I came across this story from Youth Media Reporter which shares an account of how young film makers in Baltimore made sure their work was well distributed and created conversation. The group realised their their videos, shown on local Public Access TV were not getting enough viewers, so they turned to the Internet and social networking sites to build a bigger audience.
But, as well as sharing video online, the group looked to showings in the local community, and have created their own do-it-yourself distribution guide including a focus on community screenings. A short quote:
Montebon explains the importance of community screenings in this new approach: "The reason for a screening is, you can [sit at home and] watch something on TV… but it takes another step to have a type of forum. I think what the community screenings are supposed to serve, is a platform where people can start a sort of discourse." Airing a youth-made TV episode in a community context, such as a public park, museum, or neighborhood event, creates a potential for dialogue. It is easier for people to talk to one another about youth-led issues in a group setting, as well as engage with youth media makers on the issues they raise.
How do you make sure your video projects start conversations and create change?
Not just video:
If a video has been created to lobby for change (for example, to get a local authority to provide cycle lanes on a route to school, or to call on a local leisure company to make their activities affortable to all young people) then it is also worth thinking carefully about other tools that will be needed to create change. A video is one of the most effective tools for getting decision makers to understand a problem – but will everyone who is in the meeting that makes the decision you want to influence have seen the video? And have you provided a clear proposal along with your video stating in words what you want changed?
————
*I don't want to suggest that all video projects have to be externally focussed. All art-froms can be effective tools for individual and group learning as an end in itself. However, where a change making impact is within reach, then I would always encourage its pursuit…