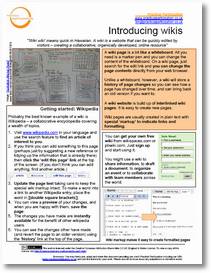 Another post in the one page getting started series. This time taking a look at the humble wiki.
From the document:
A wiki page is a bit like a whiteboard. All you need is a marker pen and you can change the content of the whiteboard. On a wiki page, just search for the edit link and you can change the page contents directly from your web browser.

Unlike a whiteboard, however, a wiki will store a history of page changes so you can see how a page has changed over time, and can bring back an old version if you want to.

A wiki website is build up of interlinked wiki pages. It is easy to create new pages. Wiki pages are usually created in plain text with special 'markup' to indicate links and formatting.
You can download the guide for printing here, or for editing here.
Because of the group I designed it for, this version of the guide suggests that users get familiar with the wiki concept by trying to edit a relevant page on Wikipedia, and then uses Wikispaces as it's example of a build-your-own wiki. This may not be suitable for all groups – but, as the sheet is Creative Commons licenced you are free to apapt it to suit the context you are working in.
A few wiki links:
---
Attachment: 8 – Wiki in One Page.pdf
Attachment: 8 – Wiki General.doc