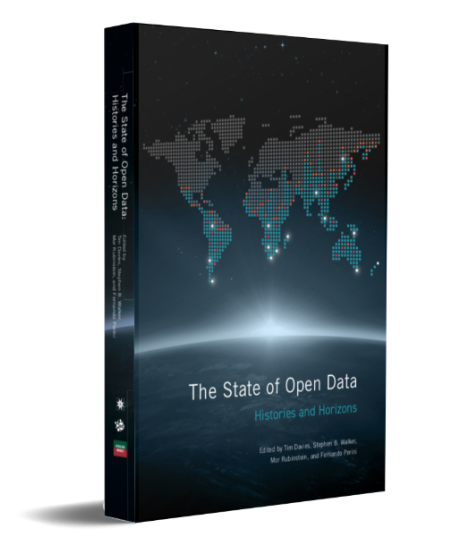 The online and open access book versions 'The State of Open Data: Histories and Horizons' went live yesterday. Do check it out!
We've got an official book launch on 27th May in Ottawa, but ahead of that, I'm spending the next 8 days on the US East Coast contributing to a few of events to share learning from the project.
Over the last 18 months we've worked with 66 fantastic authors, and many other contributors, reviewers and editorial board members, to pull together a review of the last decade of activity on open data. The resulting collection provides short essays that look at open data in different sectors, fromaccountability and anti-corruption, to the environment, land ownership and international aid, as well as touching on cross-cutting issues, differentstakeholder perspectives, and regional experiences. We've tried to distill key insights in overall and section introductions, and to draw out some emerging messages in an overall conclusion.
This has been my first experience pulling together a whole book, and I'm incredibly grateful to my co-editors, Steve Walker, Mor Rubinstein, and Fernando Perini, who have worked tirelessly over the project to bring together all these contributions, make sure the project is community driven, and to present a professional final book to the world, particularly in what has been a tricky year personally. The team at our co-publishers, African Mindsand IDRC (Simon, Leith, Francois and Nola) also deserve a great debt of thanks for their attention to detail and design.
I'll ty and write up some reflections and learning points on the book process in the near future, and will be blogging more about specific elements of the research in the coming weeks, but for now, let me share the schedule of upcoming events in case any blog readers happen to be able to join. I'll aim to update these with links to any outcomes from the sessions too later.
Book events
Thursday 16th May – 09:00 – 11:00 – Future directions for open data research and action
Roundtable at the Harvard Berkman Klein Center, with chapter authors David Eaves, Mariel Garcia Montes, Nagla Rizk, and response from Luminate's Laura Bacon.
Thursday 16th May – Developing the Caribbean
I'll be connecting via hangouts to explore the connections between data literacy, artificial intelligence, and private sector engagement with open data
Monday 20th May – 12:00 – 13:00 – Let's Talk Data – Does open data have an identity crisis?, World Bank I Building, Washington DC
A panel discussion as part of the World Bank Let's Talk Data series, exploring the development of open data over the last decade. This session will also be webcast – see detail in EventBrite.
Monday 20th May – 17:30 – 19:30 – World Cafe & Happy Hour @ OpenGovHub, Washington DC
We'll be bringing together authors from lots of different chapters, including Shaida Baidee (National Statistics), Catherine Weaver (Development Assistance & Humanitarian Action), Jorge Florez (Anti-corruption), Alexander Howard (Journalists and the Media), Joel Gurin (Private Sector), Christopher Wilson (Civil Society) and Anders Pedersen (Extractives) to talk about their key findings in an informal world cafe style.
Tuesday 21st May – The State of Open Data: Open Data, Data Collaboratives and the Future of Data Stewardship, GovLab, New York
I'm joining Tariq Khokhar, Managing Director & Chief Data Scientist, Innovation, The Rockefeller Foundation, Adrienne Schmoeker, Deputy Chief Analytics Officer, City of New York and Beth Simone Noveck, Professor and Director, The GovLab, NYU Tandon (and also foreword writer for the book), to discuss changing approaches to data sharing, and how open data remains relevant.
Wednesday 22nd May – 18:00 – 20:00 – Small Group Session at Data & Society, New York
Join us for discussions of themes from the book, and how open data communities could or should interact with work on AI, big data, and data justice.
Monday 27th May – 17:00 – 19:30 – Book Launch in Ottawa
Join me and the other co-editors to celebrate the formal launch of the book!