Late night updates to Tim's blog inspired by the 31-days-to-a-better-blog challenge seem to be throwing up more problems than they're solving as a tinker with the blog website. However, after a brief spam-related outage, comments are working again and I've been catching up on a few of the 31-day challenges. Details below…
Day 14 – Analyze Your Blog's Competition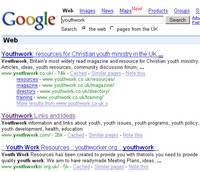 Of course, as this isn't a money making blog, this is more about analyzing other blog in the same field / talking about similar or complementary topics to explore what they do well, and how Tim's Blog adds something to the picture. As far as I can tell, reflective blogging in the secular youth work sector is relatively slim on the ground. Christian youth workers seem to have all-but-claimed the term 'youth work' online (which throws up interesting challenges for developing blogging amongst non-faith-based youth workers in terms of finding tags and keywords that both allow cross-overs and distinctions between faith-based and non-faith-based youth work), and whilst there are a lot of bloggers talking politics, not all that many focus on young people's political empowerment and participation.
One key learning from exploring other blog I read regularly, and particularly from taking part in the international-in-nature 31-days challenge, is that I need to look more carefully at the language I use. For example, I often talk about youth participation, but, as Mike asks, what is youth participation? I've started work on finding out exactly what the niche of this blog is, as that should help me work out what assumptions about terminology I can make, and which terms I need to explain. So far I've drafted up some principles for this blog, and I'm considering trying some definitional posts (answering the 'What is participation?' question and related others) in the near future. Hopefully with that done, I'll be able to have a strong sense of what I am writing about, and how, when I've worked out who 'the competition' is, it can always be bringing something extra to the picture.
Day 15 – Make Your Most Popular Posts Sticky

I write a blog chronologically. Visitors often arrive from search engines. Many will not know what a blog is. If, with a few extra clicks, a visitor could find something useful on this blog, or may find a subscription to the RSS feed or e-mail updates useful – then I'd like them to realise that they can and so to 'stick' around on the blog for a little longer. Where posts are part of a series, it would be great if readers were supported to stick around and read the rest.
That means two things:
Making sure every post explains in some way that it is part of a blog, and has details of how one can interact with a blog (like the About page compressed into a few words).
Making it easy to contextualise blog posts that are part of a particular thread of series along with their companion posts.
I've added a little blurb to the bottom of each post to help with (1), and I've got some ideas for (2), partly around manually creating links in past-posts to point to updated series, but also exploring use of the Drupal Node Queue module or Views modules to make easy-to-update blocks that introduce particular series. That however, shall have to wait a while…
Day 16 – Create a Heatmap of Where Readers Click on Your Blog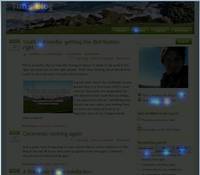 A website heat map displays spacial areas on a web-page where users click most often. Standard web-statistics only tell me that from the front page, 45 users visited my about page… whereas a heat-map will help me identify which link they clicked in order to do it.
I added a crazyegg heatmap to the front page of Tim's Blog a couple of days ago, and whilst there isn't a wealth of data flooding in, it has already persuaded me to switch from whole blog posts displaying on the front page, to only displaying the first few paragraphs with click-for-more links.
It highlighted what my statistics already suggested, which was when there was a long post on the front page which pushed another new post 'below the fold' (off the screen), the new post just off screen got only 1/2 the traffic of the top one.
I was also suspired by how many people were clicking through straight away to the About Tim page over the About This Blog page, so, thanks to this and earlier encouragement from fellow 31-day challengers About Tim has had an overhaul and hopefully gives a better idea of exactly who it is writing all this.
Day 17 – Run a StumbleUpon Campaign for Your Blog
Along with other 31-day challengers, I'm leaving this one for the moment – until I have content that I think might appear to a StumbleUpon audience… as which point I'll be off to explore it more…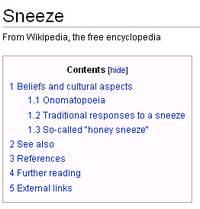 Day 18 – Create a Sneeze Page and Propel Readers Deep Within Your Blog
A sneeze page is a sort of landing page to summarize a particular topic and show what a blog has to offer on that topic. As Tim's Blog is still building up content that would need the sort of 'crating' a sneeze page offers, I'm going to hold off on creating anything in particular right now… but again this is going into the little list of blogging good-practice and 'content-curation' tips.
Day 19 – Respond to Comments on Your Blog
I'm already making an effort to respond to as many comment as I can. One omission from this blog at the moment is an option for visitors to sign up to RSS feeds or e-mail updates of comments to a post, and I'm going to look into sorting that out at the end of August…

Day 20 – Run a Reader Survey
Many of the potential readers of this blog are not, in general, blog readers. So rather than survey just the readers of this blog, I'm thinking about a wider survey to discover the best ways of sharing resources with, supporting conversations amongst, and providing information for, youth workers, participation workers and social activists is. Again, the summer precludes in arriving too early… but keep an eye out for more on that soon…
Added extra: streamlining image adding
Christine mentioned in a comment over here the challenge of finding images to use in blog posts. I've been making more use recently of a little utility called 'Capture a Screen Shot' (although any screen-shot tool that lets you grab just a set area of the screen will do) to grab images of web-pages / sections of images to easily add to posts. BlogDesk which I use for posting, helpfully offers options to crop, resize and position images – so it makes it really easy to liven up posts with a few pictures. The challenge of making sure the images are relevant, however, remains… and I'll let you judge from this blog post how I'm doing on that…