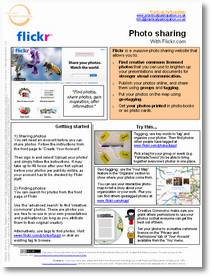 I've recently started creating a series of 'Social media in one side of A4' mini guides as part of an online course I'm leading to introduce social media into one of the organisations I work with.
I'm planning to tidy up the first few for a general audience soon, but, as I noticed mention of Flickr on the Fairtrade Towns Yahoo Group this afternoon (thanks to Stafford Area FT Group who have set-up a Flickr group here) I though I would get a copy of the guide to Flickr online now.
So, here is Flickr in one side of A4.
Flickr is an online photo sharing too – and a very powerful one at that. So, if you're interested in how you can make the most of your photos, do take a look.
The guide is Creative Commons licenced, so feel free to take it and adapt it if it could be useful to you (original word version attached below). I'd also be really interested to hear responses to the format of the guide – as I'm looking to produce, and soon share, quite a few more…
---
Attachment: 5 – Flickr in one side of A4.pdf
Attachment: 5 – Flickr.doc