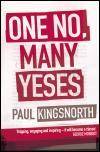 I've just returned from a weekend catching up with friends, and have been struck again by how important the movement of One No, Many Yeses* is.
Social change requires co-ordination that takes place not (just?) through the market, but through individuals taking action because it is the right action to take. That means deeper conversations to creatively work out how we each play our part. That means understanding the real nature of our relationships with others and not leaving the £ sign to mediate in all our interactions.
It needs communities. And I've just been reminded by the loose community of bloggers whose work I read and on occaision interact with, that today is 'Blog Action Day'. A chance for a community to come together around On No (killing the planet) and Many Yeses (ways to live more environmentally friendly lives) and to reflect on environmentalism in their individual areas.

So as my contribution to promoting some enviro-wise things to say yes to, I though I would point in the direction of the Generous Community, an experiment that arose from Greenbelt Festival as a way of taking small actions as part of a bigger group. You can see all the environmental actions suggested on Generous here, and if there's some that you're already trying, or that grab your attention – do sign-up and join us. You can find my Generous household over here.