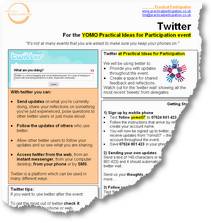 My post on using twitter via text message at conferences has been one of the most popular on this blog.
When I wrote that guide I had thought that text-message feedback via Twitter cost only the standard network rate for UK mobiles – and so for those (like me) with inclusive text message bundles that never get used up – it was virtually free.
However, via a trail of posts leading to Tech Crunch (and checking against my own phone bill) I've just discovered that's not quite the case:
Note also that the 07624 in Twitter's number (+44 762 4801423) means it is actually billed as "international" by 3 and T-Mobile, making it a pricey service for those who like to tweet via SMS.
That raises an issue particularly for conferences with young people – where the 25p a message cost of sending in each bit of feedback at a conference can put up a significant barrier to participation ("you can have your say – but it'll cost £1 over the course of the day if you're on T-Mobile" doesn't seem quite right).
I might have to do a little rethinking about the best process for conference twittering to see if this is an issue we can work around in future. Any suggestions welcome…