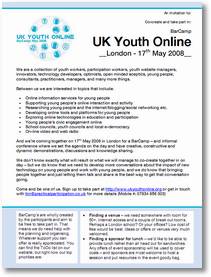 [Summary: you are invited to join in a free informal conference to talk about young people, the internet, opportunities, challenges, and change]
I've been struck again this week by how many people are thinking about young people's use of the internet, and the opportunities for engaging with young people online – but also by how disparate much of the action to move forward on those thoughts is.
More than ever we bring together the different threads of work to see if:
We can shared learning between different groups;
We can foster conversations across professional boundaries and between sectors;
We can build stronger shared understandings of where the world of young people online is heading;
We can find spaces to pool efforts and have a bigger impact;
That's where the BarCamp style gathering 'UK Youth Online' taking place on the 17th May comes in. And you're invited. (download your invitation here…)
And you're invited to let others know about it too.
(Oh, and if you do have any links to possible London venues we could use for the event please do get in touch. We're looking for somewhere with space for 50 or so, a couple of break out rooms and internet access. BarCamp's are participant organised gatherings, so right now we're on the look out for where we actually gather…)
---
Attachment: UK Youth Online – Gathering and conference – 17th May 2008.pdf