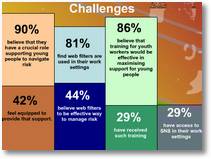 On Monday I gave a presentation to the Ofcom/Oxford Internet Institute seminar on Social Networks about some of what we have discovered so far in the Youth Work and Social Networking research project.
A few people have asked me for the slides – so I've put them up on the project blog over here.
More results from the research will be available soon…
Update: a webcast of the presentation is now online here. My piece starts 59 minutes into session 1.