[Summary: I like campaigning success. SRI a step closer for Oxford's Investments]
I spent a lot of my time at Oxford working on the University Socially Responsible Investment Campaign – trying to convince Oxford University and it's colleges to make sure their £2bn worth of investments were doing good in the world, and were not invested in weapons manafacturers and other companies with missions completely counter to the values of most of the University body.
Just before I left in 2006 we suceeded in getting a resolution of University Congregation (the top governing body of the University) to create a Socially Responsible Investment committee. We succeeded (long story… ask me about it some time…) and all went quiet.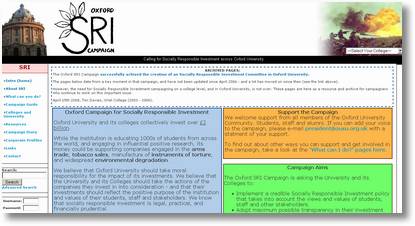 So I was rather happy to get a note today from my co-campaigner Richard Ollerhead telling me that finally, two years later, the Committe has been created. That doesn't mean Oxford University Investments are out of the Arms Trade yet – but it does provide a much needed opportunity for the University community to have a say over what is done with the money invested in their name.
The full resolution is below, and I've resurected a mirror copy of the old campaign website from 2006 here where you can read a bit more about why Socially Responsible Investment matters…
From the Oxford University Gazette
(a) Socially Responsible Investment Review Committee

In Council Regulations 15 of 2002, concerning committees reporting directly to Council (Supplement (1) to Gazette No. 4634, 16 October 2002), insert new regulations 3.81–3.85 below and renumber existing regulations 3.81–3.114 as 3.86–3.119:

'3.81. The Socially Responsible Investment Review Committee shall consist of:

(1) a Chairman appointed by Council who is not a member of Council;

(2) the Pro-Vice-Chancellor (Research, Academic Services and University Collections) or the Pro- Vice-Chancellor (Education) as shall be determined by Council from time to time;

(3) a member of the Donations Acceptance Review Committee appointed by Council;

(4) a person appointed by Council who shall not be the holder of a teaching or administrative post in the University, or in any college, society, or Permanent Private Hall, and shall bring recent and relevant expertise of investment management to the working of the committee;

(5) a member of Congregation elected by Congregation from members of the faculties in the Divisions of Mathematical, Physical and Life Sciences and of Medical Sciences;

(6) a member of Congregation elected by Congregation from members of the faculties in the Divisions of Humanities and of Social Sciences;

(7) a student member appointed by the Executive of the Oxford University Student Union from among their own number.

3.82. The committee shall review the University's policy on socially responsible investment and its implementation at least every five years and submit to Council any changes it may wish to propose.

3.83. The committee shall consider representations concerning the policy on socially responsible investment and proposals to invest or disinvest submitted to it as set out in (1) (a)–(c) below to ensure that they are consistent with the policy statement, seek the views of the Investment Committee on the efficacy and costs of implementation where appropriate, and make a recommendation to Council where appropriate.

(1) Representations concerning the policy on socially responsible investment and proposals to invest or disinvest may be submitted to the committee as follows:

(a) by Council, the Investment Committee or any other committee reporting directly to Council;

(b) by twenty or more members of Congregation;

(c) by a majority resolution of the Council of the Oxford University Student Union.

3.84. The committee shall make such recommendations to Council as it thinks fit on positive or negative screening, or on engagement strategy, in respect of its investments.

3.85. The committee shall make a report to Council annually on the proposals considered under regulation 3.83 (1), on an assessment of the University's investments against its defined policy statement on Socially Responsible Investment and on any other relevant matters, through the General Purposes Committee of Council.'

[These regulations, approved on the recommendation of the Socially Responsible Investment Working Group appointed by Council, establish a new committee to implement changes agreed by Council on 22 May 2006, following the submission of a twenty-member resolution. The committee will (i) act as a conduit for views on Socially Responsible Investment policy, (ii) make recommendations to Council on positive or negative screening, or on engagement strategy, as part of the University's policy on Socially Responsible Investment (published in 'Notices' below), (iii) consider individual investment proposals with a view to making recommendations to Council, and (iv) report annually to the General Purposes Committee on its activities.]