---
I've been working on series of strategy options for engaging young people in local democracy activities through Facebook. The two key platforms for engagement that support some level of dialogue appear to be Facebook pages, and Facebook groups. So I though I'd try and get a sense of when you would choose one over the other.
If you were looking to host a discussion between young people and local councillors on Facebook – which would you use?
Below are the notes I've drafted on the topic so far…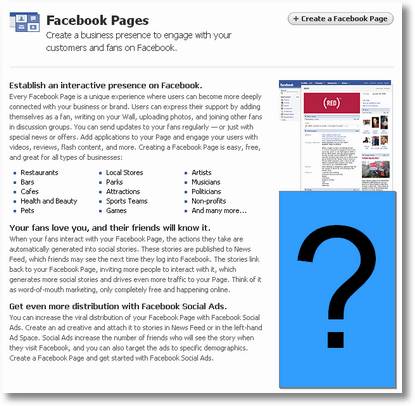 Groups or Pages?
Both 'Facebook pages' and 'Facebook groups' offer a way of promoting activities and of hosting a discussion between different Facebook users. Both can have a discussion wall, and discussion forum. Both offer ways of Facebook members affiliating with them, with that affiliation optionally displayed to a members 'friends' (creating a viral marketing effect). They are, however, subtly different:
Groups
You can create a Facebook group for just about anything. They can be used as serious discussion forums, virtual petitions where membership indicates support for a cause, a space for sharing photos and videos or a way of subscribing to get messages from an organisation (amongst other things).
As the creator of a group you gain control over which features of the group are enabled, and whether it is visible to all members of Facebook, or is closed and visible only to invited Facebook members. Facebook groups are never visible to non Facebook users.
Users of Facebook can 'join' your group and then post messages on the 'wall' or in the 'discussion forum' (which allows for threaded discussions). As the group owner you can send a message to all your group members – this will appear in their Facebook inbox. You can also invite group members to events created through the Facebook event system (which allows RSVP guest lists etc.).
Pros
Facebook users are familiar with groups

You can send messages to group members

They are marginally easier to set up and manage than pages
Cons
Groups are only visible to Facebook members

Groups cannot have extra applications added to them

You generally have to visit a group regularly and to use the messaging feature to keep discussions flowing.
Pages
You can create a 'Facebook Page' for any entity such as a club, youth council, youth project etc. Unlike groups which have 'members', and which are only visible to logged in Facebook users, most of a 'Facebook Page' can be visible on the wider internet to those without a Facebook account, and have 'fans'.
You can send updates to fans, but these will only be displayed on the side of a users homepage when they log-in, rather than appearing in their inbox. This means they are likely to get less attention that messages sent to group members.
You can add some 'applications' to pages, similar to the way you can add applications to your Facebook profile. For example, you could add an RSS application to your page that would pull in the headlines from your blog, or from another discussion board, to display on your Facebook page.
Here is an example page created for Practical Participation.
Pros
Can be visible on the wider internet to non-Facebook members (although only Facebook members can interact with them)

You can add applications

Facebook presents you with visitor statistics to let you know how many visitors you pages are getting.
Cons
'Updates' sent to those who decide to be a 'fan' of your page are lower key than messages to group 'members'.

Facebook users are less familiar with pages than they are with groups.

Visitors still need to be a member of Facebook if they want to join in discussions on your page message board.
When would you choose one over the other?
If you were looking to host a discussion between young people and local councillors on Facebook – which would you use?
There are many factors that could decide between pages and groups. However, in this case my leanings would lead me to choose:
Pages if I wanted a long-term public record of the dialogue, and wanted to engage young people via Facebook over the longer term

Groups if I wanted to quickly host a discussion with those already on facebook, but without building a presence on Facebook right now.
What would your choice be?