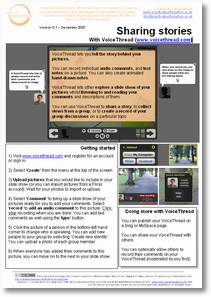 These two one page guides were written very specifically for the Young Researcher Network launch conference and look at online video editing and using the voicethread tool for collaboratively narrating slide shows and presentations.
I was introduced to VoiceThread by Al Upton and the miniLegends during the 31-days to a better blog challenge this summer. It's a really interesting tool, and so, with this one page guide my aim has been to offer an introduction to VoiceThread, but to leave open to discussion it's possible applications. I'd love to hear stories from those who have used VoiceThread in any consultation, participation or youth work contexts.
You can download the introduction to VoiceThread as a word file here (PDF coming when I get hold of a better PDF convertor which handles translucency without it looking horrible…).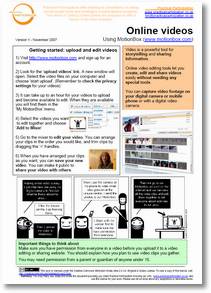 The second guide outlines how you can edit video online using MotionBox. For users whose computer systems are firmly locked down by the corporate or local authority IT department, online editing may well present one of the best options for quickly creating and sharing effective video content.
You can download the Online Video Editing with Motionbox guide as a PDF here, or grab the original word file to modify from here.
MotionBox is one of many tools that have recently emerged for editing video online. I chose it for this guide as, of those I knew at the time, it seemed to offer the best 'walled garden' of video content that I felt comfortable using with a group of young people aged 13 to 25. I'm planning to explore JayCut as an alernative tool worthy of a one page guide soon.
Does anyone reading have experience with other online video editing tools? Which would you recommend?
---
Attachment: Sharing stores- with voicethread.doc
Attachment: Online video – with motion box.pdf
Attachment: Online video – with motion box.doc